Stock Horse of Texas (SHTX) is the oldest versatile stock horse association in the country – a true original that continues to innovate.
Stock Horse of Texas is designed for riders of all experiences to learn and compete in an environment that is friendly, affordable and designed to fit all levels of riding. Clinics focus on creating a 'broke,' functional stock horse that is a pleasure to ride. Our clinics promote learning in a relaxed atmosphere that suits both beginner riders and advanced competitors. Premiere horse industry clinicians, including multiple world champions, are regular teachers at clinics – an unmatched value to members.
Shows offer competitions in the four basic stock horse disciplines: Reining, Working Cow Horse, Stock Horse Pleasure and Stock Horse Trail. There is a division for every skill level, so riders can show with others of similar ability and experience. Divisions include Open, Non Pro, Limited Non Pro, Intermediate Non Pro, Novice, Youth and Junior horse. Stock Horse of Texas also offers incentives for collegiate teams and members.
Many of our shows also offer co-approved AQHA Ranch Riding and AQHA Versatility Ranch Horse classes.
Stock Horse of Texas is a strategic marketing alliance partner with AQHA, recognizing SHTX as the leader in the stock horse industry.
Join Stock Horse of Texas
Today with our online membership form!
To receive information on upcoming clinics and shows, sign up for our newsletter:
Upcoming Events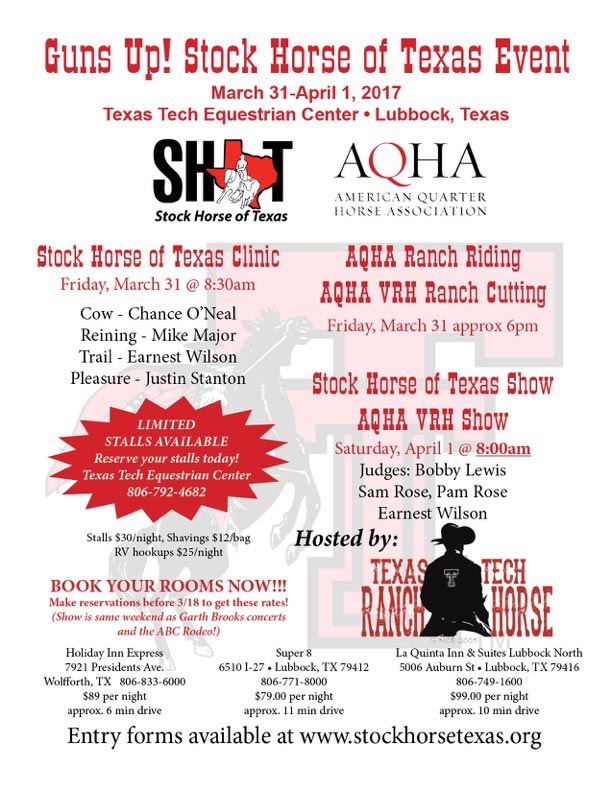 The ceremony officially naming the Kris Wilson Fearless Champion Arena will take place at noon on Saturday, April 1 during the Stock Horse of Texas show. Kris was the founder of the Ranch Horse Team at Texas Tech, and he also created the collegiate ranch horse team competition.
For more information on the Board of Regents decision to name the arena, click here.
Lubbock
March 31-April 1, 2017
Stock Horse of Texas Clinic, Show, AQHA VRH and AQHA RR
***Make your hotel reservations NOW! Garth Brooks is hosting 5 concerts, plus other TTU events are in town on this weekend. Hotel options are on the flyer***
***Indoor Stalls & On Site RVs are SOLD OUT***
Please CALL TTU Equestrian Center to see what stalling options are available. Phone number is on the flyer.
Entry Forms are now Interactive PDFs! You can fill it out on your computer, save and email. Sign at the show or sign digitally. Or print and fill in by hand and send. Your choice!
We look forward to seeing everyone!
Looking for info for the April Fundamentals Clinic? Look on the Event Schedule page!
Social Media