Ride With Us!
"Helping People Ride a Better Horse"
That's the Stock Horse of Texas motto. It is our ultimate goal. We want to help you improve with your horse. It doesn't mean you need to spend several thousand dollars on a finished show horse or that you need a trainer. We want to give you the educational tools to improve the horse you like to ride. Through our clinics as well as networking with other horse owners, we hope you learn more about your horse and how to utilize training techniques to accomplish your goals.

Clinics
Stock Horse of Texas hosts stand-alone clinics, as well as shows paired with one-day clinics. Our stand-alone clinics offer a small group setting that focuses on fundamentals as well as skills used in the four stock horse events. Some stand-alone clinics have live cattle for cow horse practice, while others utilize a flag. Many of the stand-alone clinics are geared to Novice and Intermediate-level riders.
Shows paired with a one-day clinic are scheduled throughout the year. These events feature a clinic on Friday with four equine professionals each teaching one of the four stock horse disciplines (trail, pleasure, reining and cow). Riders are divided into four groups and rotate to each discipline. Riders will have the opportunity to practice on a live cow as well as ride across many of the trail course obstacles that will be included in the show on Saturday and Sunday.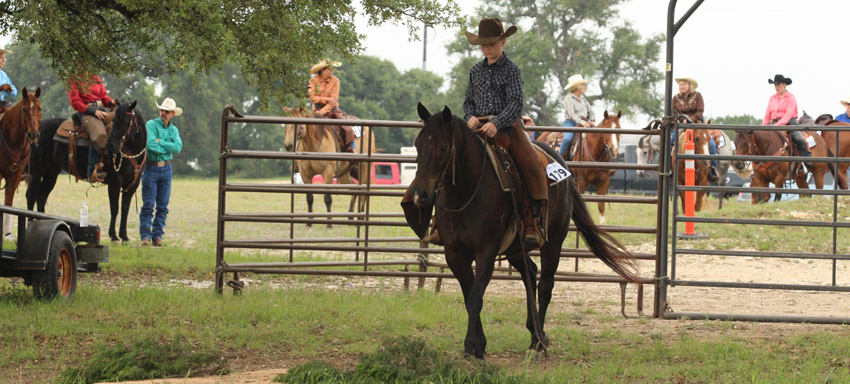 Shows
Saturday shows run in multiple arenas throughout the day. A tentative show schedule will be posted online and on Facebook the week the show, with estimated times and locations for each division. **Please note, the entry form is NOT a show schedule.
Results for each class, along with the judge's score card are posted near the show office. Exhibitors are encouraged to look at their score cards to know what areas they excelled in and what areas they might could improve upon. Results and score cards are also posted online the week following the show.
Awards are presented to the Top 5 in the All Around of each division. To be eligible for the All Around, a horse/rider combination must compete in all four events. Riders are not obligated to show in all four stock horse events, although we do hope that is your ultimate goal. Showcasing a versatile stock horse is one of the association's strong points.
SHTX has a competitive yet friendly atmosphere. You can compete against each other and cheer for someone and be cheered for by your competition. -- Sam Reding
SHTX recognizes the AQHA Judges List for certified Specialty Versatility Ranch Horse judges for Stock Horse of Texas competitions.
Year End Awards
Year-End awards are presented to those in the All-Around standings in the Open, Non Pro, Limited Non Pro, Intermediate, Novice, Youth, Novice Youth and Junior Horse divisions. Year-End High Point Individual Class winners (one-horse/one-rider) are also recognized.
Year-End Awards will be based on a total of the approved shows at which a horse/rider combination competes in a single division. All but two shows will count for year-end All-Around and Class points, regardless of how many shows are held. To be eligible for Year-End All Around awards, a horse/rider combination must compete in the All Around at least 50% or more of the shows in a specific division within a given year. (Special events, like the Futurity/Derby do not count toward the number of shows.)
For additional rules related to Year End Awards as well as other award programs, consult the SHTX Handbook.
World Show
The Western Horseman Stock Horse World Show is held at the end of the show season, along with the Ordner Insurance / American Reliable Insurance Derby. The world show is open to any Stock Horse of Texas member. Riders qualify by competing in at least 1 SHTX class sometime during the year. For more information on the World Show, click here.