World Show
Exciting changes in store for 2018! New facility! More prizes! Vendor Alley! and a Saturday evening Awards Party!
SHTX World Show Vendor Alley, Advertising & Sponsorships
Click for information.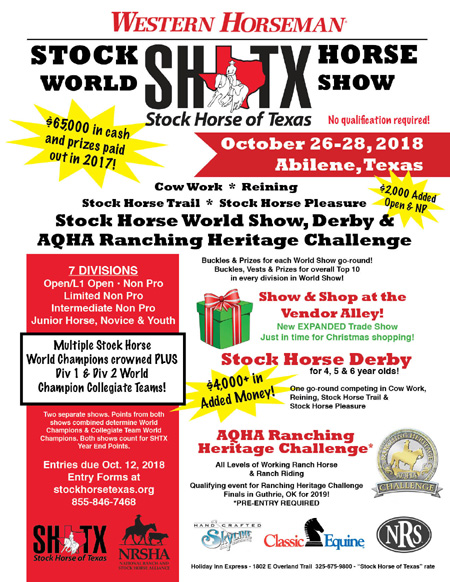 FUTURITY & DERBY INFO HERE
CLICK HERE FOR WORLD SHOW INFORMATION PACKET
ENTRY FORM COMING SOON
Hotel information:
Holiday Inn
1802 E Overland Trail, Abilene, Texas
$109/night (Stock Horse of Texas rate)
**Reservations must be made by 9/25 to get the rate

The Western Horseman Stock Horse World Championship is held the last weekend in October in Abilene, Texas. Stock Horse World Champions will be crowned in all SHTX divisions. This show is open to ANY exhibitor – you do not need to qualify!
There will be 2 complete shows (one on Friday and one on Saturday) with placings and awards for each day. Points earned on both days of competition are added together to determine the Stock Horse World Champions.
The 2017 Western Horseman Stock Horse World Championship featured more than 200 horses and 1,480-plus entries, as well as a Futurity and Derby aged event. For more information on the Stock Horse Derby, click here. There is not a Futurity in 2018.
--- WORLD SHOW PHOTOGRAPHER ---
Willie Gomez Photography is the official photographer of the Stock Horse World Championship. Photos can be purchased on site. Proofs are available here.

Congratulations to the 2017 Stock Horse World Champions!

Open: Cattasan, owned and shown by Matlock Rice



Non Pro: Smart Wiskey Pistol and Jason Seymour



Limited Non Pro: Juliette Starlight and Lyndi Starr



Intermediate: Boots Be Tuff and Larry Walker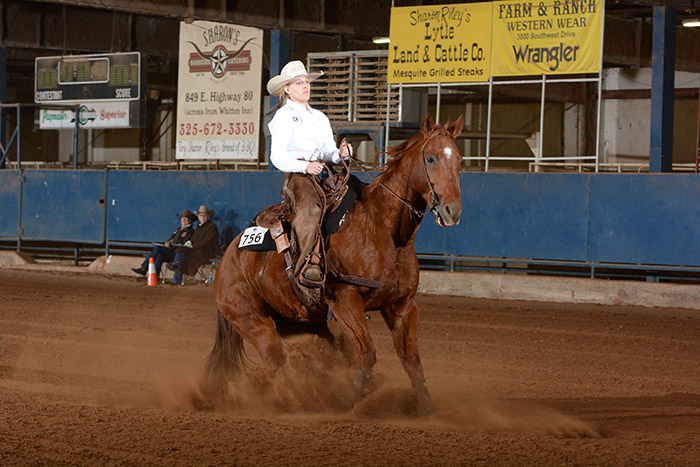 Novice: TAMU Pop A San Doc and Courtlyn Ranly



Junior: Kings Melody and Roy Fischer



Youth: Top Stoppin Dun It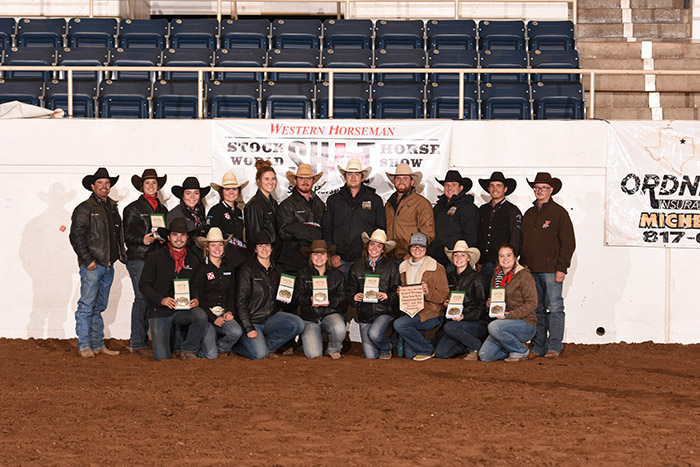 Division 1 College Team: Texas Tech University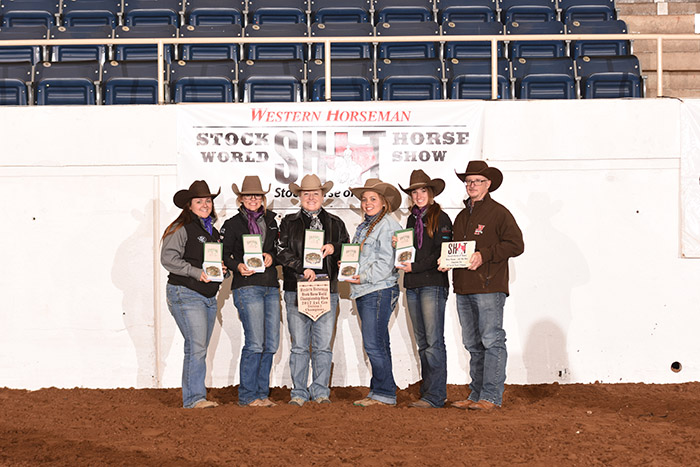 Division 2 College Team: Tarletan State University