World Show

Over $75,000 in Cash and Prizes for the World Show!
$10,000 ADDED to the Derby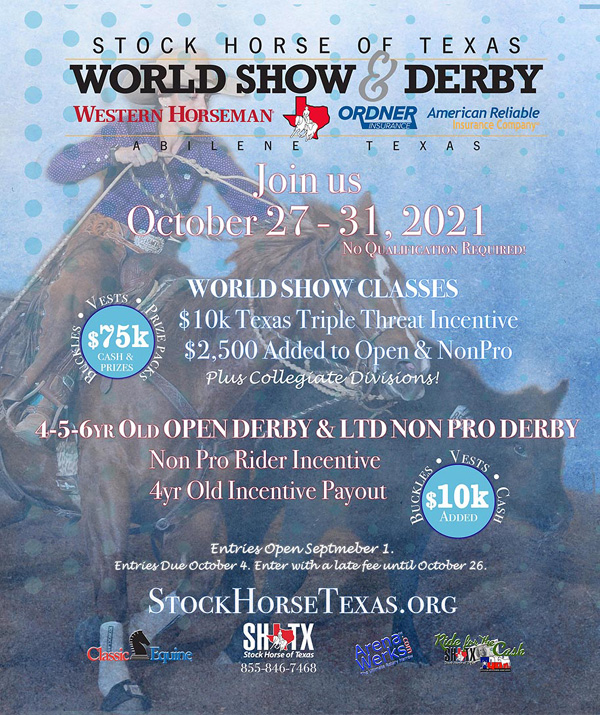 ---
GENERAL INFORMATION
---
ENTRY / PROOFING
---
ARRIVAL/STALL LIST
Stalling opens 3pm Tuesday
Arrival Map, other Arrival information

Tentative Show Office Hours:
Tuesday 3pm-6pm
Wednesday 8:30am-approx 6pm
Thursday 6:45am-end of show
Friday 6:45am-6pm (staff will be at Fence Work Showcase)
Saturday 6:45am-end of show
Sunday 8:15am-end of show

Stall Assignments List
Stall Maps >> ZOOM in...give the maps a minute to load....
Map of First Financial Map of Guitar Arena
RV Spots List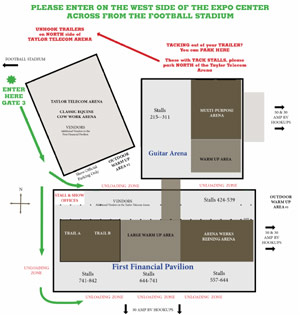 ---
ARENA HOURS / PRACTICE SCHEDULE
---
PATTERNS:
Reining:

Go Round 1 -- SHTX Pattern 6
Go Round 2 -- SHTX Pattern 4
Derby -- SHTX Pattern 9

Stock Horse Pleasure:

Go Round 1 -- SHTX Pattern 1
Go Round 2 -- SHTX Pattern 4
Derby -- SHTX Pattern 5
---
SPECIAL EVENTS:
---
OTHER DETAILS:
---
ENTRY FORMS - Due Oct 4. Enter Oct 5-26 with Late Fee.

STOCK HORSE WORLD SHOW
9 Divisions from Open to Novice
4 Events -- Cow Work, Reining, Stock Horse Trail, Stock Horse Pleasure
2 Go-rounds
Over $75,000 in Cash & Prizes for All Arounds! $2,500 Added in Open and Non Pro
Vests to the Top 10 in the All Around
---
Ordner Insurance/American Reliable Insurance Stock Horse Derby
$10,000 Added!
Sunday, October 31
4, 5 & 6 year old horses with a 4-year-old $500 Incentive in each division
Open Division with $1,000 Non Pro Incentive
Limited Non Pro Division
Scholarships to the highest placing full time college student in each division
ENTER HERE! (Derby classes on Pg 2, bottom right of entry form)
Last year's Derby paid out over $22,000! This year it's even better with $10,000 ADDED!
There will NOT be an AQHA Ranching Heritage Challenge this year. If you are looking for a place to qualify, please visit this website for the other Ranching Heritage Challenges in 2021. There are two other RHC in Texas in September and October.
---
Texas Triple Threat
If you're horse is Texas bred, Texas owned and the exhibitor is from Texas with a TQHA membership, you're eligible for the $10,000 Texas Triple Threat Incentive! Just fill out this form to enter. ALL divisions of the World Show are eligible. The SHTX office will compile scores of all eligible horses to determine the top riders across all SHTX divisions.There's no cost to enter this program. The Texas Triple Threat does not apply for the Derby. This is just a World Show program.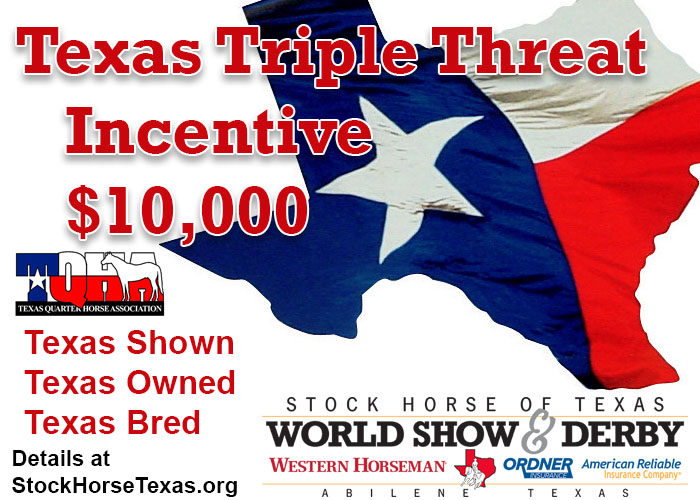 All Forms Must Be Completed before the show starts -- Wednesday 6pm.
---
STALLING AND RV RESERVATIONS
Stall Reservations Due by October 18th, Cancelations must be received by 10/18 to receive a refund.
Stall purchases are closed. The First Financial Pavilion is sold out. There are a few stalls left in the Guitar arena. Additional stalls must be purchased in person from the show office.
CLICK HERE TO SEE A MAP WITH BLOCKS OF STALLS / RVS
Cancellations / refunds on any stalls/RVs will be issued minus the credit card fees until 10/18.
Rest Assured Stall Pads will return for the 2021 show. They will be taking preorders, $100 per set. through 10/25. The stall pads are (2) 4'x9'x1" which is taped in the middle. You own them and can take them home. The pads are about 5 lbs each. They also offer disinfectant, $10 with stall pad purchase and $15 without. They will only spray through 10/26 before move in at 3pm, so let them know if you want your stalls disinfected.
* Call or text 972-935-2779 to reserve yours. All preorders wIl be installed and ready before you arrive.
---
HOST HOTELS -- Ask for the SHOT Show Rate
Courtyard Mariott NE & TownePlace Suites NE -- Book with this link
2101 Scottish Dr. | 325-673-0400
$149 Flat Rate **must book by Oct 12**
Courtyard Abilene Southwest/Abilene Mall South for 114 USD per night --
Book your group rate
**must book by Oct. 1
Residence Inn Abilene for 119 USD per night -- Book your group rate
**must book by Oct. 1

---
Special Events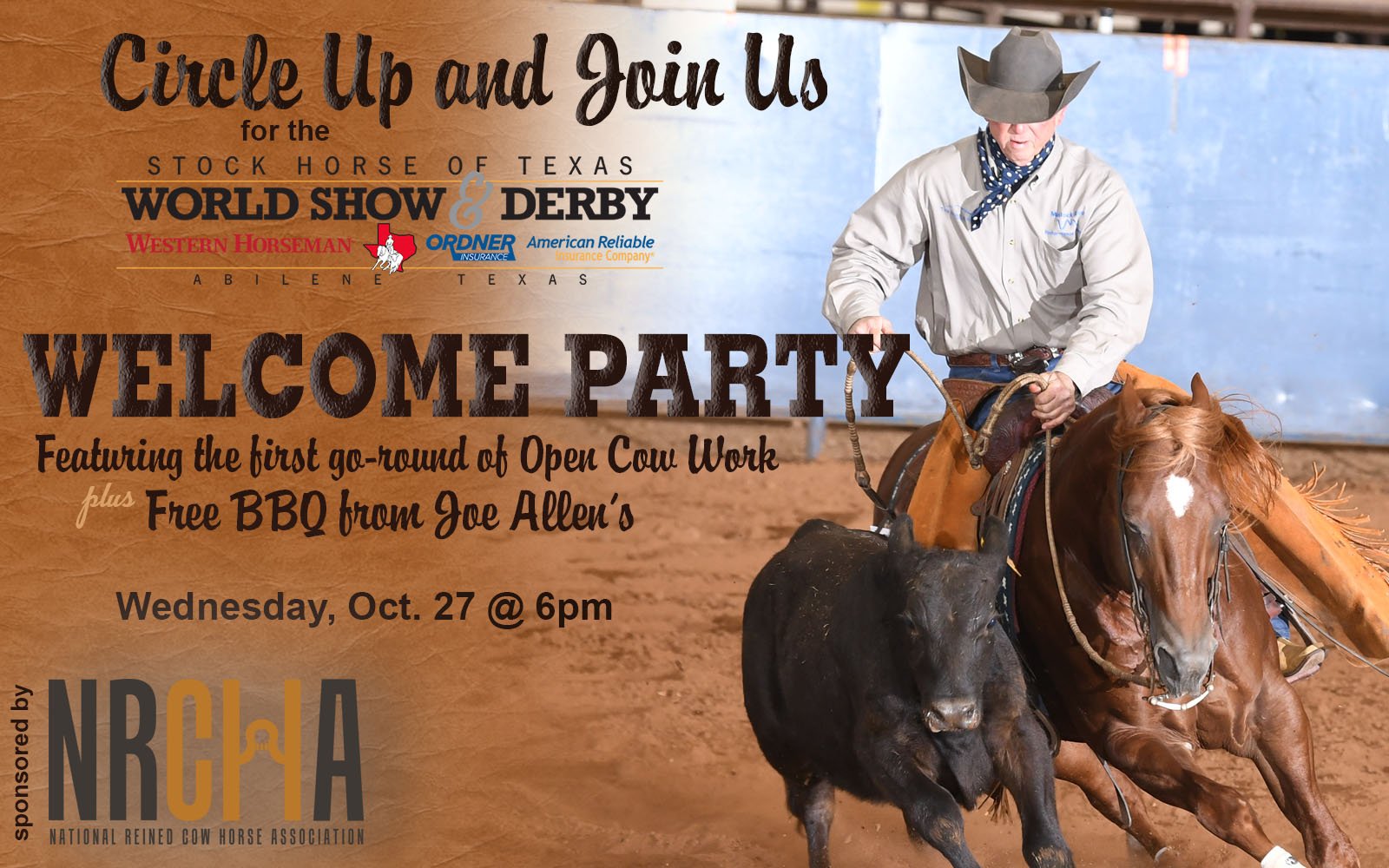 ---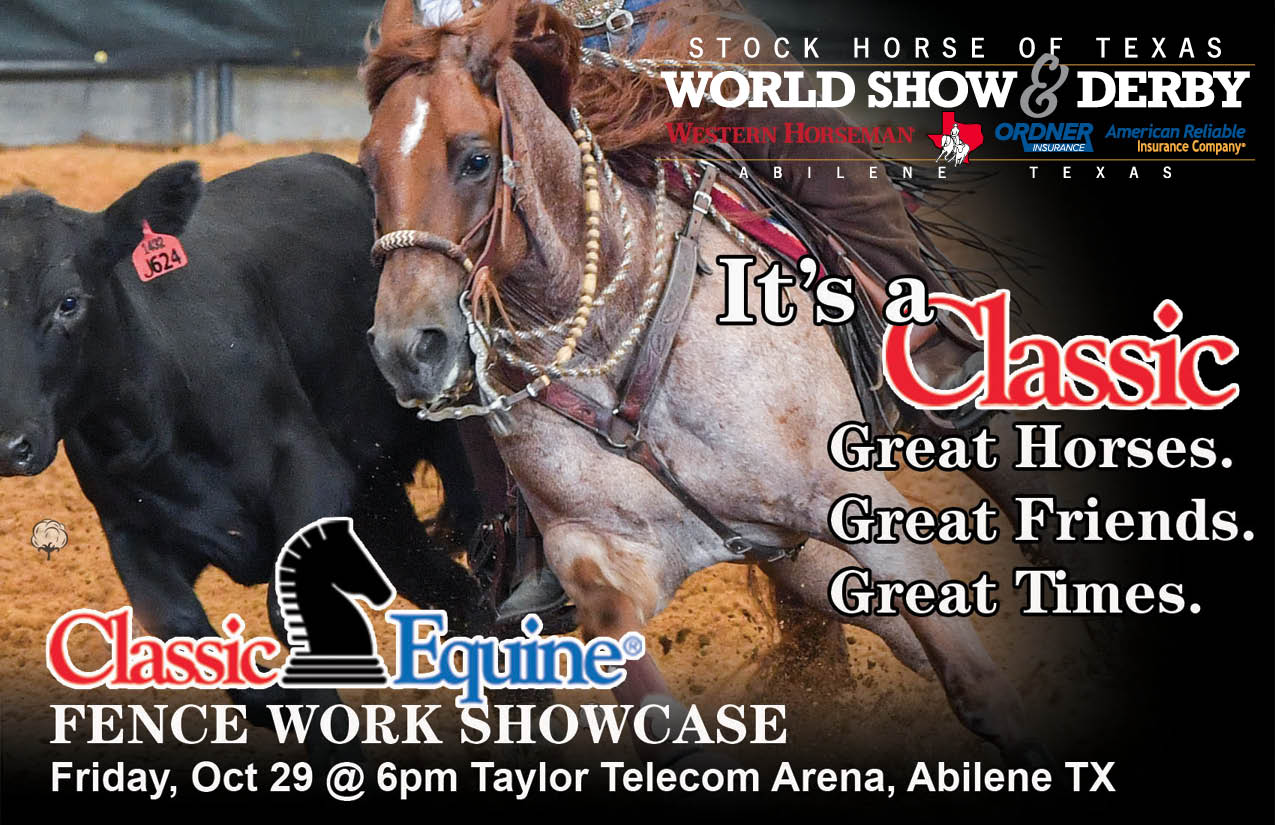 Grab your friends at enjoy the Open and Non Pro Fence Work on Friday night! Stop by the Classic Equine booth for refreshments while you hoop & holler for these fantastic riders!
---
Youth Freestyle Reining Scholarship Fundraiser
Saturday, Oct 30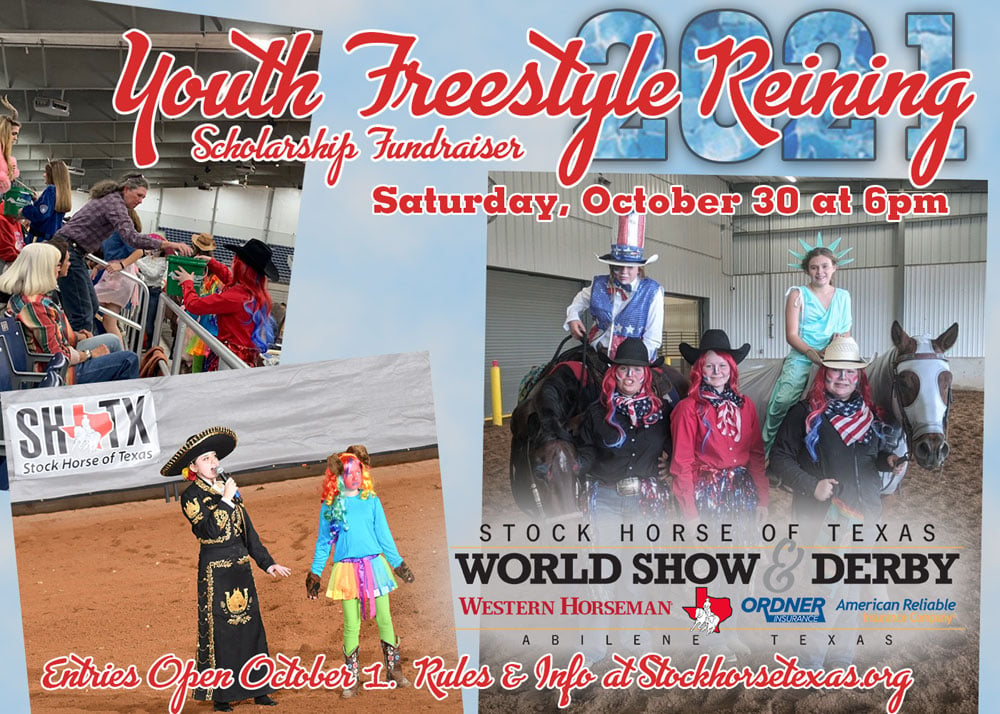 Bring your cash to help the kids!!!
Watch each run and vote for the winners by putting money in your favorite team's donation bucket!
Youth Freestyle Reining Rules - coming soon
6 teams max. Entries open on October 1. Call the SHTX office 855-846-7468
---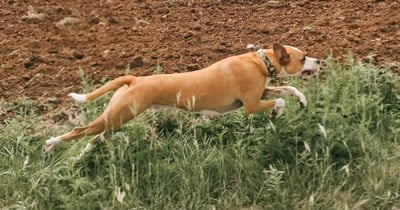 Zoetis "Horse Show Dog" Races


---

Awards Party!
Saturday, October 30
After the Freestyle Reining & Zoetis Dog Races
Taylor Telecom Arena
Awards for both go-rounds & overall World Champions will be presented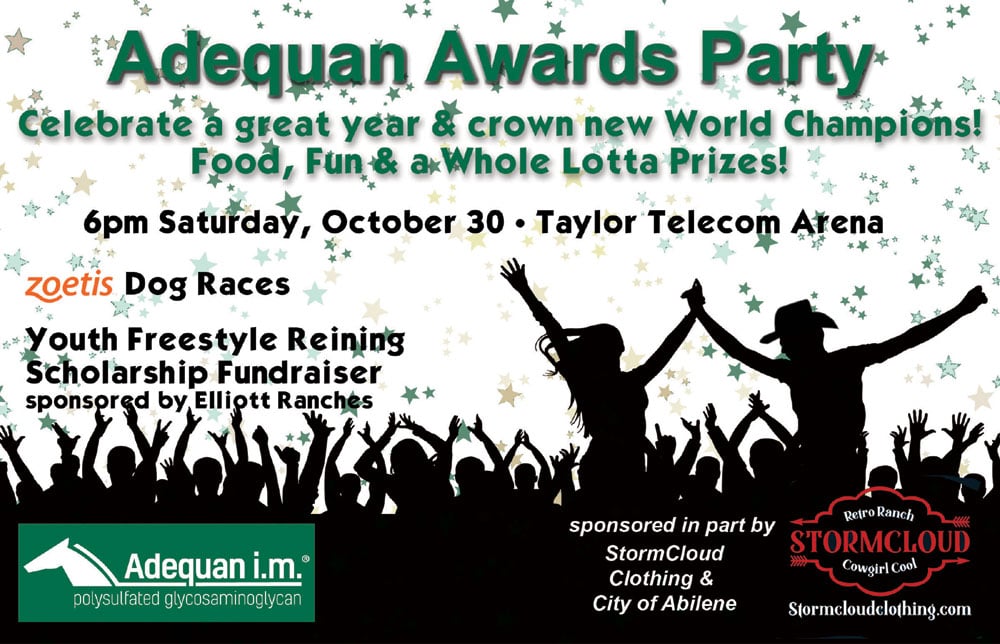 ---

Paid Practice Sign Up
New for 2021 world show!! **UNLIMITED** access to trail practice at discounted price from last year! Only $30 automatically added to your entry. No time limit! Trail courses open to all entries. We hope to help alleviate some scheduling constraints on our participants by restructuring the paid warm up format. Folks can now spend the time they need, when they need!
Paid Practices for Cow Work will be available on Wednesday, October 28 from 9-3pm. This is the only day paid practices will be available.
Prepurchase only in the SHTX store starting October 11.
**Only 1 session per horse/rider combination for cow paid practice. If you are riding multiple horses, please specify the horse's name in the Comment area of the Sign up form.
You must ride at your chosen/assigned time. If you have conflicts, swap with someone. Paid practice sessions are non-refundable.