World Show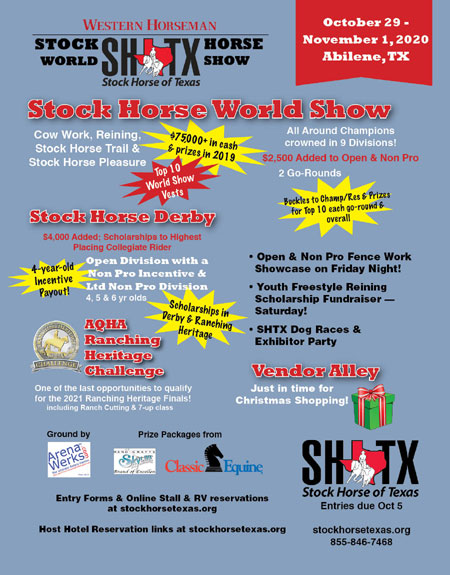 ---
| | |
| --- | --- |
| GENERAL INFORMATION | *Applies to SHTX World Show entries only. |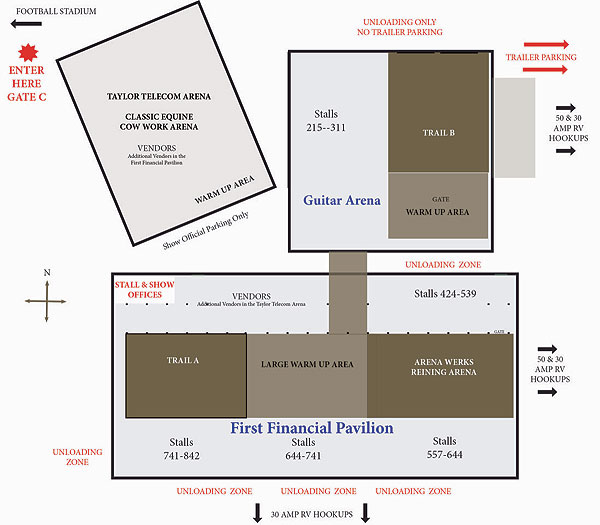 click for larger view
---
ENTRY FORMS

9 Divisions from Open to Novice
4 Events -- Cow Work, Reining, Stock Horse Trail, Stock Horse Pleasure
2 Go-rounds
Over $75,000 in Cash & Prizes for All Arounds! $2,500 Added in Open and Non Pro
Vests to the Top 10 in the All Around
Paid Practice Times as of Friday, October 24: Cow | Trail A | Trail B
if you need to purchase times, go to the SHTX Store
---
Sunday, November 1
4, 5 & 6 year old horses with a 4-year-old Incentive in each division
Open Division with $1,000 Non Pro Incentive
Limited Non Pro Division
Scholarships to the highest placing full time college student in each division
Last year's Derby paid out over $15,000!
Held in conjunction with the AQHA Ranching Heritage Challenge
---
AQHA Ranching Heritage Challenge
Sunday, November 1
Working Ranch Horse Classes
4yo Open & Ltd Open
5-6yo Open & Ltd Open
7 & up Open
Cowboy
Amateur & L1 Ama 4yo & Up
Youth & L1 Youth
Ltd Amateur & L1 Ama
Ltd Youth & L1 Youth
Ranch Riding Classes
Ranch Cutting Classes
---
| | |
| --- | --- |
| VENDOR INFO, PROGRAM ADVERTISING, SPONSORSHIPS | |
---
STALLING AND RV RESERVATIONS
Stall Reservations Due by October 23rd
Stall & RV Assignment Listing -- if there is an issue, call the Taylor Co Expo Center (325) 677-4376
All stalling/RV is handled through the Taylor Co. Expo online system. It is a little confusing, so we recommend following thses steps:
1. Look at this Stall & RV Map to find specifically where you want to be. (click on image to enlarge to see stall numbers)
2. Click Here for Stalls. Choose the general region prefered and select individual stalls. **If you have a stallion and need an adjoining stall marked off, please call Taylor Co. Expo at 325-677-4376.
3. Click Here to purchase Shavings. These will be in one of your stalls on arrival based on the name you reserved the stalls.
4. Click Here to purchase RVs.
If your plans change, stalls and RVs are refundable.
Rest Assured Stall Pads Available -- These are not rubber stall mats, but 1" stall pad that can be purchased (you take them home) for your stall to cushion the concrete floor for your horse. $100 on pre-orders installed before you arrive; $110 if purchased at the show. Facebook Page Call Lisa Bownds for more information 972-935-2779. A stall disinfecting service also available for $10/stall.
---
HOST HOTELS -- Ask for the SHOT Show Rate
Courtyard Mariott NE & TownePlace Suites NE
2101 Scottish Dr. | 325-673-0400
$99 Flat Rate
Holiday Inn & Suites
1802 East Overland Trail | 325.675.9800
$107 Flat Rate
Whitten Inn
1625 Texas Highway 351 | 325-673-5271
$69 Flat Rate
---
WORLD SHOW PHOTOGRAPHER
Willie Gomez Photography is the official photographer of the Stock Horse World Championship. Photos can be purchased on site. Proofs are available here.

---
Thanks to these SHTX Family Sponsors who help make this event possible in the new Taylor Telecom Arena!
Patti Colbert & Spanky Stephens
Shannon Pigott, Sundance Ranch
Ben Baldus, Baldus Horsemanship
Laura & Jonathan Yarbrough
Reding - Rosales - Luis families
Thanks to these World Show Buckle Sponsors!
The Creator's Apprentice - Carla Gniffke
StormCloud Clothing - Nancy Cloud
Jim & MaryAnne Truemper
Robert & Rebecca Rivers
Thanks to These Special Event Sponsors!
Elliott Ranches - Freestyle Reining Sponsor
Zoetis - Dog Race Sponsor
Abilene Convention & Visitor's Bureau
Special Events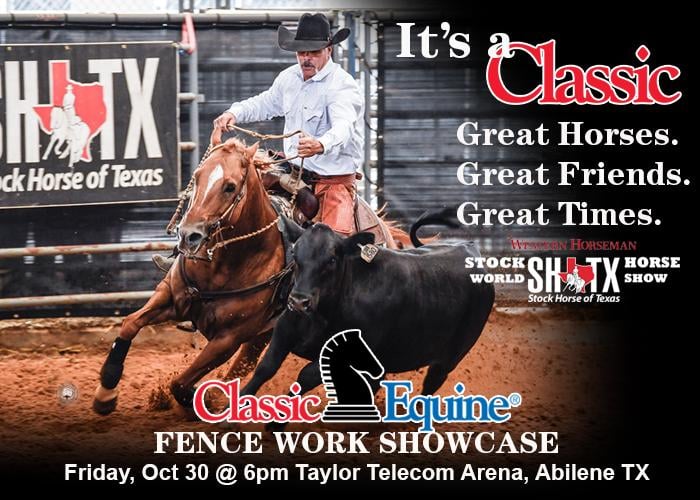 Grab your friends at enjoy the Open and Non Pro Fence Work on Friday night! Stop by the Classic Equine booth for refreshments while you hoop & holler for these fantastic riders!
---
Youth Freestyle Reining Scholarship Fundraiser
Saturday, Oct 31
Sponsored by Elliott Ranches
Estimated 5:15pm, specific time TBA
following the Zoetis Dog Races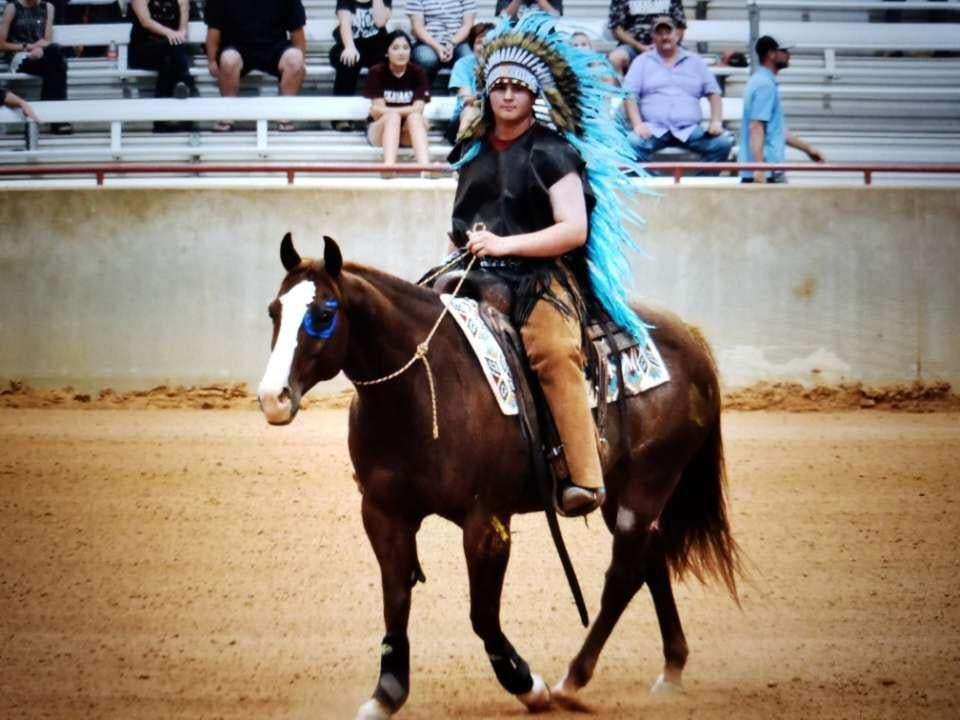 Bring your cash to help the kids!!!
Watch each run and vote for the winners by putting money in your favorite team's donation bucket!
*NEW* Youth Freestyle Reining Rules
6 teams max. Entries open on October 1. Call the SHTX office 855-846-7468
---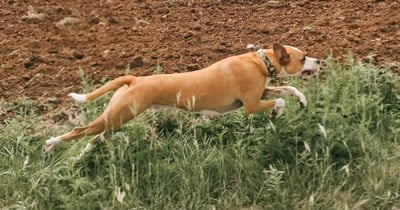 Zoetis "Horse Show Dog" Races
Saturday, Oct 31
Sponsored by Zoetis
Estimated 5:00pm, specific time TBA
Zoetis Quest Plus Equine Dewormer for the first 50 competitors!
No sign up....just be there ready to race
Three divisions --
Under 20lbs / 20-50lbs
Over 50 lbs
Prizes for each winner!

---

Awards Party!
Saturday, October 31
After the Freestyle Reining & Zoetis Dog Races
Taylor Telecom Arena
Awards for both go-rounds & overall World Champions will be presented
Party sponsored in part by the Abilene Convention & Visitor's Bureau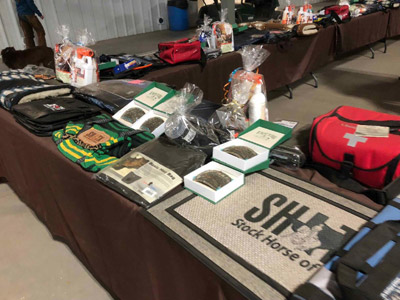 ---

Paid Practice Sign Up
Paid Cow and Trail practices will be available for purchase starting October 19th. Details will be emailed that morning. You must sign up for a specific time for each paid practice.
Paid practices are only on Wednesday, October 28 from 12-7pm.
Prepurchase only. Cow practice $50; Trail practice $25 per course.
**Only 1 session per horse/rider combination in each location. If you are riding multiple horses, please specify the horse's name in the Comment area of the Sign up form.
You must ride at your chosen/assigned time. If you have conflicts, swap with someone. Paid practice sessions are non-refundable.


** Adequan will hold a drawing of all entered participants to be one of the FIRST PICKS on Paid Practice sign up times! You must be entered in the World Show by Oct 5 to qualify. **