Partner with Stock Horse of Texas
BUSINESS INSIGHT




855-846-7468
stockhorsetexas@att.net
Membership statistics for 2022
(click to view summary)
Power in Numbers
10 SHTX shows across Texas in 2022
18 SHTX clinics across Texas in 2022
Average of 1,371 entries and 327 horses at each SHTX show
Tremendous Growth
From 2019-2022, SHTX saw 51% growth in attendance at shows!
Total entries in 2022: 12,399 entries
SHTX members are loyal – 36% of riders attend at least 5 SHTX events each year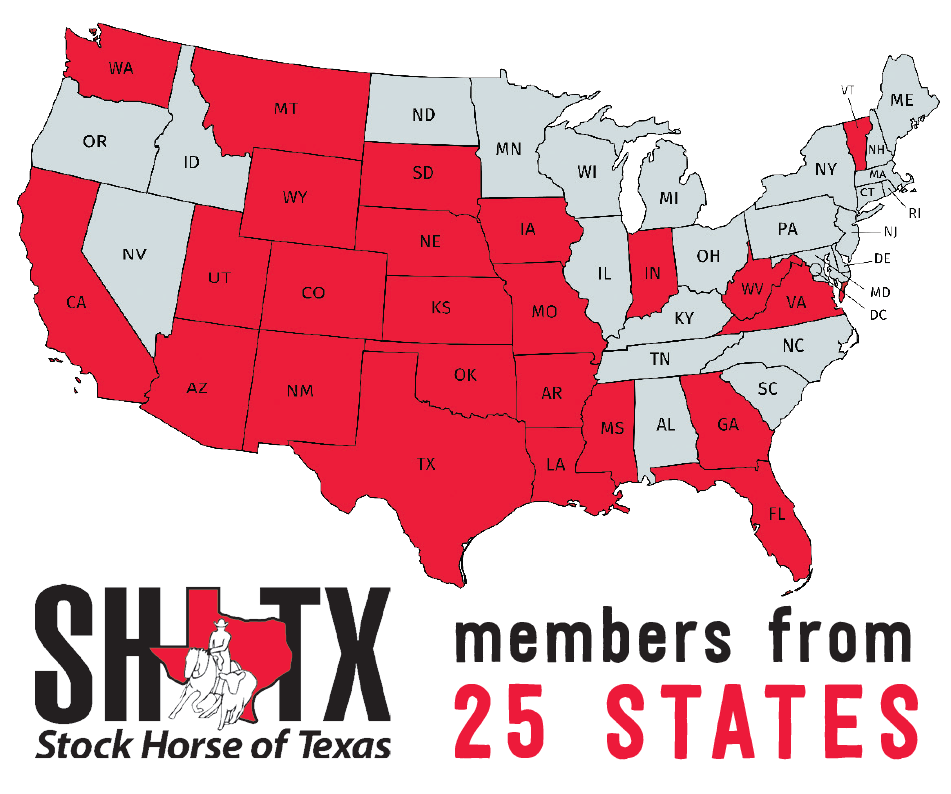 ABOUT US
Stock Horse of Texas began in 1996 by a panel of legendary horsemen who believed in a true ranch/stock horse. These visionary individuals based every aspect of SHTX, from our clinic program to our four-class system, on the idea of "helping people ride a better horse."
Our history runs deep, but so does our ability to innovate, bringing new riders to the industry while also serving world champion horsemen.
Specific Partnership Opportunities:
Education is Key to SHTX Success
Clinics are paired with almost every SHTX event and focus on creating a "broke," functional stock horse that is a pleasure to ride. Clinics promote learning in a relaxed atmosphere for beginners and experienced riders. Premier industry professionals are regular teachers at our events.


click for larger view
Visit our YouTube Channel for Educational Outreach & Training Tips
SHTX FOCUS
Developing partnerships between rider and horse
High quality equine events for the highest level rider to novice
Providing live cattle for people to practice and learn
Family friendly
Affordable fun
Learning atmosphere
Providing competition at 10 different levels so riders can compete against their peers
SHTX has alliances with other major equine organizations

Youth & Collegiate Programs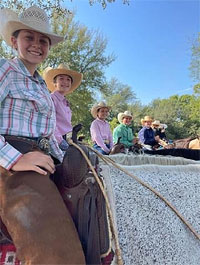 SHTX rapidly growing youth program offers competition for multiple levels of youth. Hang out one afternoon with our youth riders, and you'll want to be a kid yourself! They cheer for one another, offer support and have fun! At any one event, you'll likely see 75 kids of all ages hanging out together, rooting for each other. We foster camaraderie through social activities at events, and offer leadership and community service opportunities within the youth association.
The collegiate ranch and stock horse competition was started at SHTX in 2005 by the late Dr. Kris Wilson. SHTX offers collegiate shows during the semester, and awards Collegiate World Championships in conjunction with the Stock Horse World Show. Ten colleges and universities were represented at the 2022 competition.
SHTX offers both youth and collegiate scholarships to SHTX members. Some are earned through application process; others are won during competition.
Stock Horse World Show

The SHTX competition year culminates with a world championship show for members. World champion titles are awarded in all divisions after two go-rounds of competition. The show boasts over 3,000 entries and almost 400 horses that gather and compete over 4 days to determine the world champions. Evening events foster fun and fellowship, like the Welcome Party, the Classic Equine Fence Work Showcase, the Horse Show Dog Races and Freestyle Reining Scholarship Fundraiser.
In conjunction with the World Show, the Stock Horse Derby is an aged event designed to highlight the talent of 4, 5 and 6-year-old horses that compete in cow work, reining, ranch trail and stock horse pleasure. A $10,000-Added purse sponsored by Ordner Insurance and American Reliable Insurance draws the top, versatile horses to the competition.
In 2022, more than $100,000 in cash and prizes were awarded at the World Show and Derby.