Stock Horse of Texas (SHTX) is the oldest versatile stock horse association in the country, a true original that continues to innovate.
Stock Horse of Texas is designed for riders of all experiences to learn and compete in an environment that is friendly, affordable and designed to fit all levels of riding. Clinics focus on creating a 'broke,' functional stock horse that is a pleasure to ride. Shows offer competitions in the four basic stock horse disciplines: Reining, Working Cow Horse, Stock Horse Pleasure and Stock Horse Trail, with some shows offering Ranch Cutting.
There is a division for every skill level, so riders can show with others of similar ability and experience.
Stock Horse of Texas is proud of alliance partnerships with AQHA, APHA, NRCHA and the National Ranch and Stock Horse Alliance.
Join Stock Horse of Texas today with our online membership form!
To receive information on upcoming clinics and shows, sign up for our newsletter:
Upcoming Events


BELTON BUCKLE BONANZA
May 26-29, 2022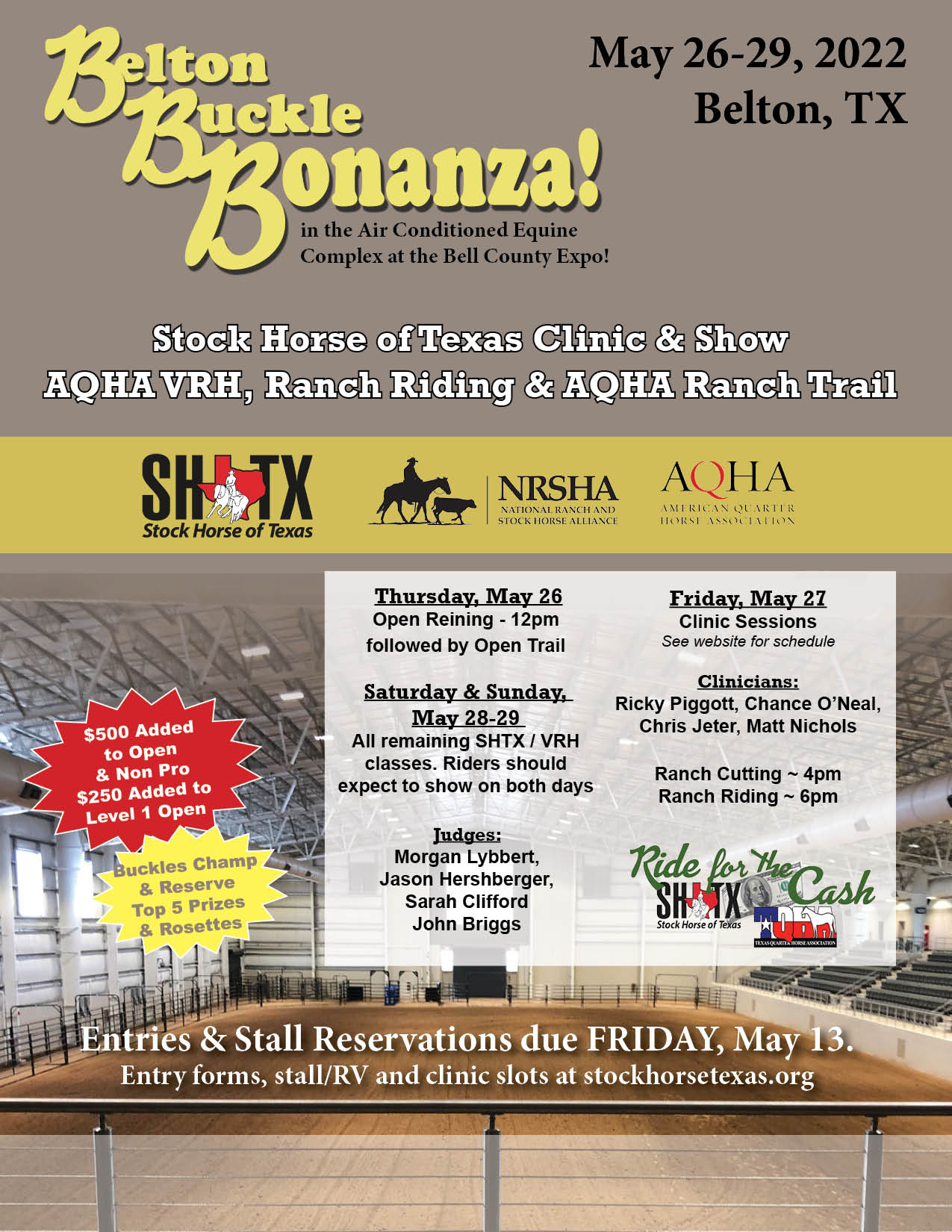 Belton Buckle Bonanza
Bell Co. Expo, Belton, TX
STALL ASSIGNMENTS
Warm Up Arena Map
Horse Barn Map
RV ASSIGNMENTS
In the Trees RV Map
Main Parking Lot RV Map
***OPEN REINING & TRAIL ON THURSDAY @ 12PM***
See the Schedule section below for a detailed tentative schedule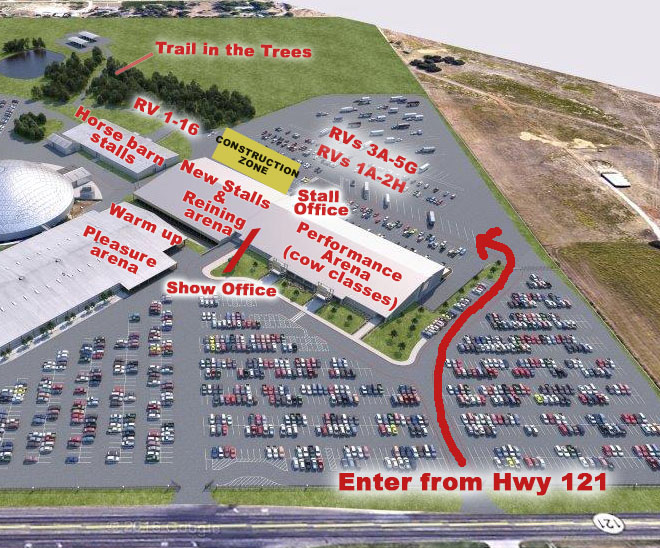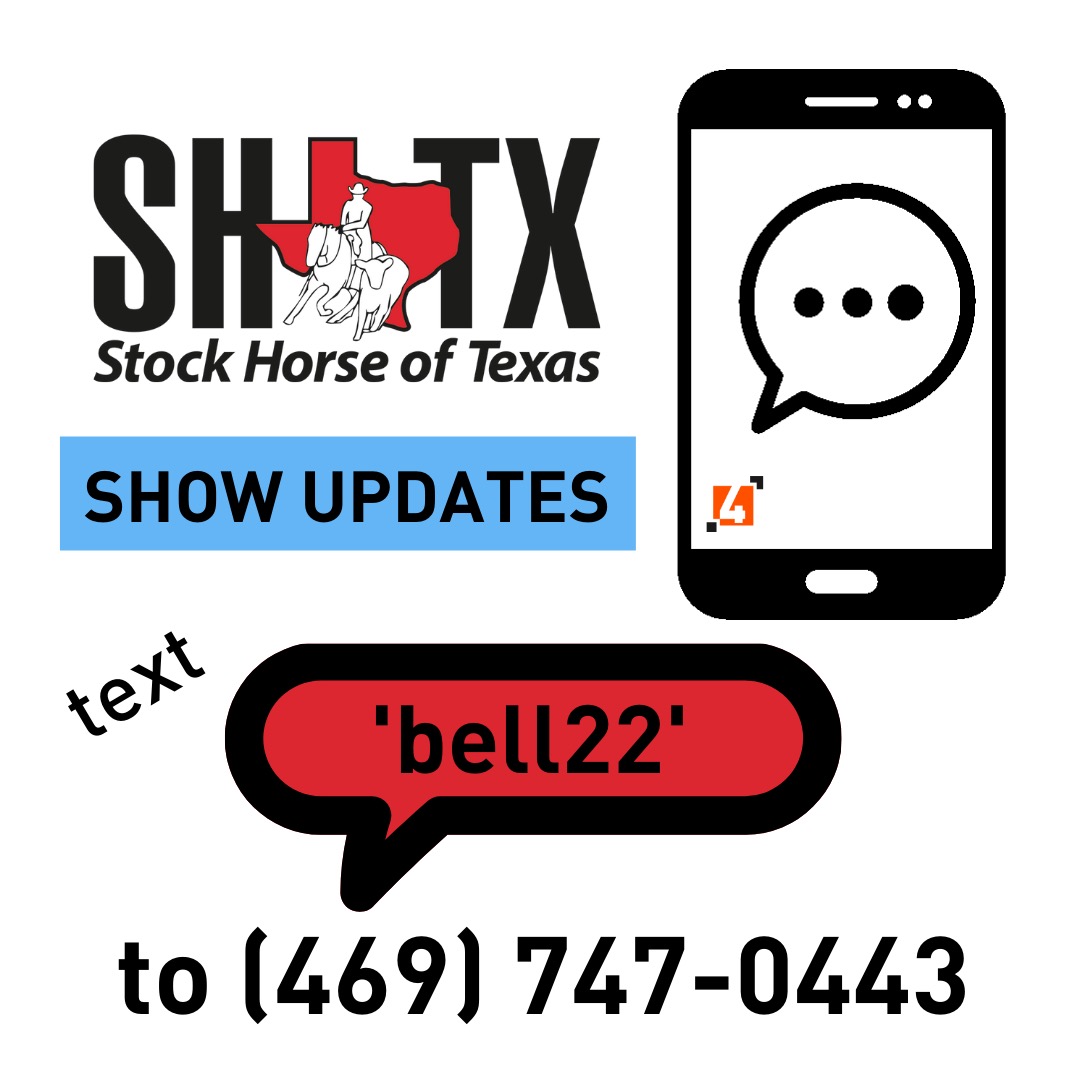 ENTRY FORMS -- Due FRIDAY May 13
Late entries accepted with $100 late fee
Click Here to Enter
***Please Verify your entries!***
Entry Proofing List
Cutting entry list
Cutting Wait List
Email changes to entry@stockhorsetexas.org
Use Ctrl + F to search for your name on any list
STALLING / RVS
STALL ASSIGNMENTS
Warm Up Arena Map
Horse Barn Map
RV ASSIGNMENTS
In the Trees RV Map
Main Parking Lot RV Map
*** If you need to make changes to your stalls, please call SHTX.
If you need to cancel stalls, please fill out the refund form. ***
CLINIC
The clinic is sold out. View the clinic Wait List here.
It is not uncommon to get 15-25 people into the clinic from the wait list
Friday Clinic Schedule with Session A and Session B click here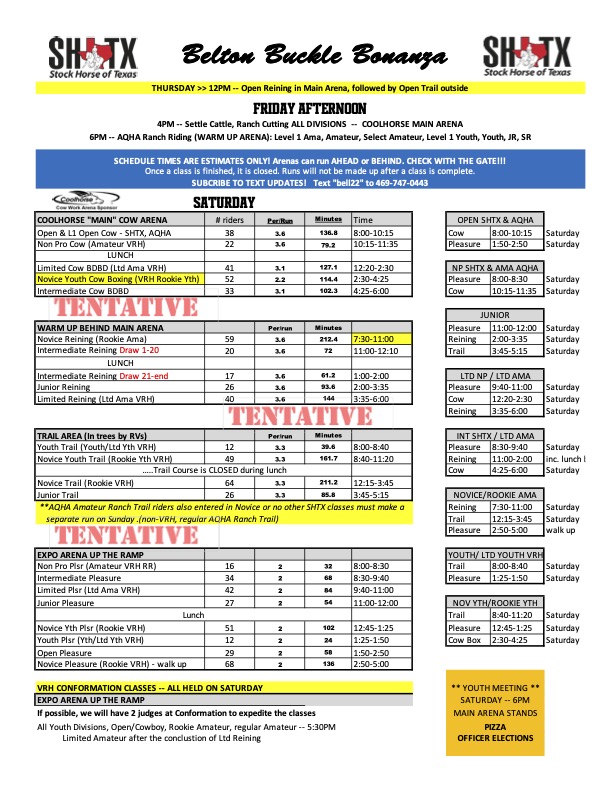 Thursday @ 12 noon:
Open Reining followed by Open Trail
Facility arrival any time after 4pm on Wednesday
Friday:
Stock Horse Clinic Schedule click here

Friday Ranch Cutting @ 4pm (All Divisions drawn together)
Friday Ranch Riding @ 6pm (Level 1 Amateur, Amateur, Select, Level 1 Youth, Youth, Junior, Senior)
Saturday & Sunday
SHTX & VRH Classes -- most divisions will have some classes both days
PATTERNS
Reining: SHTX #9 (Trot in)
SHTX Pleasure / VRH RR: SHTX #1
AQHA Ranch Riding #5
HOTEL INFO
Expo Inn & Suites 254-613-5289
Belton LaQuinta: Call and ask for the 20% Stock Horse discount 214-613-5842

Holiday Inn Temple-Belton
$119.00 Per Night
SHOT - Stock Horse of Texas - Holiday Inn Direct Booking Link Cut off for Group Rate 5/13/2022
---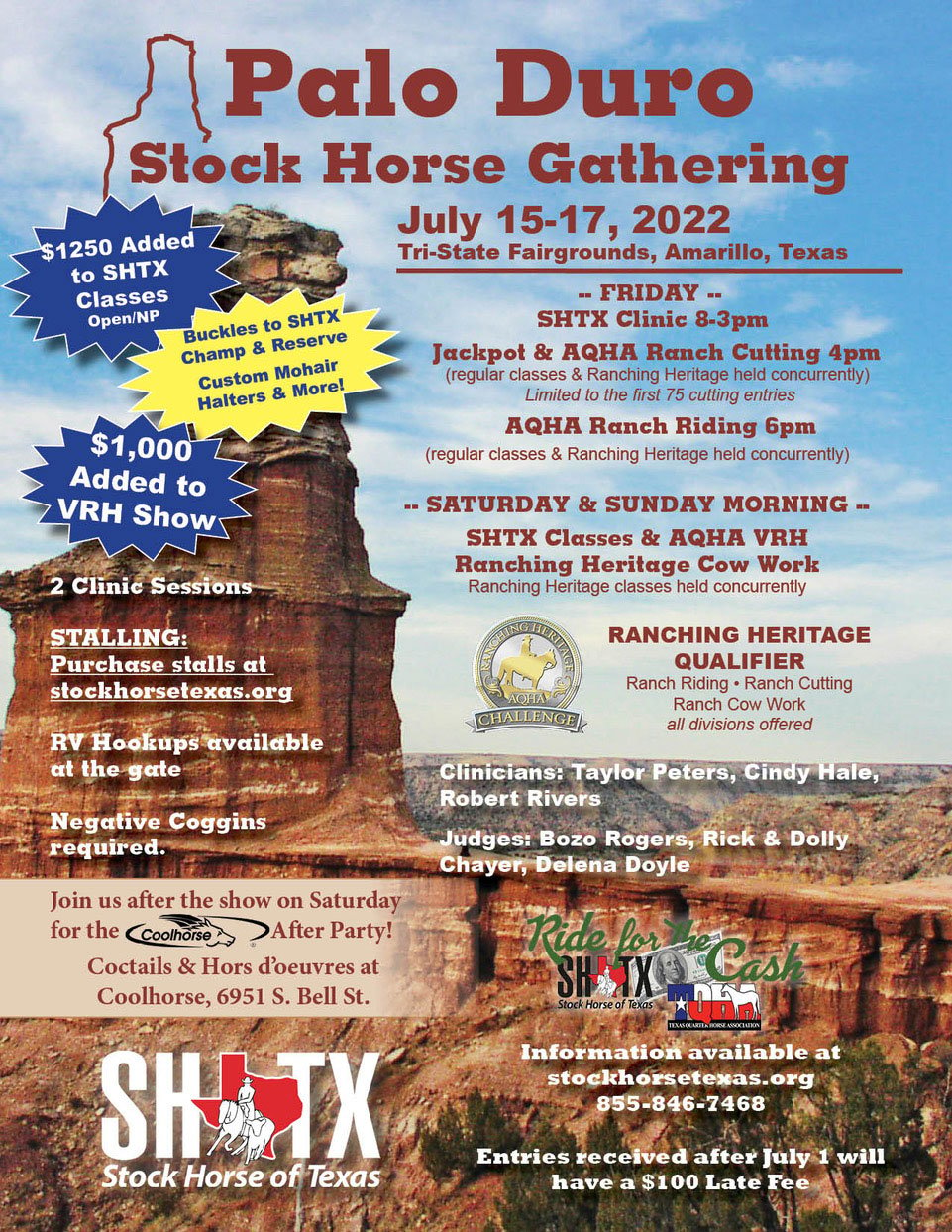 Social Media
---
SHTX Youth Camps and Clinics
Registration for the SHTX Youth Camps are open...AND we have exciting news!
Thanks to several wonderful sponsors, each rider will have 80% of their clinic spot, meals, and stall covered! All you have to pay is the $175 deposit! The sponsors are paying for the balance in the form of a clinic scholarship.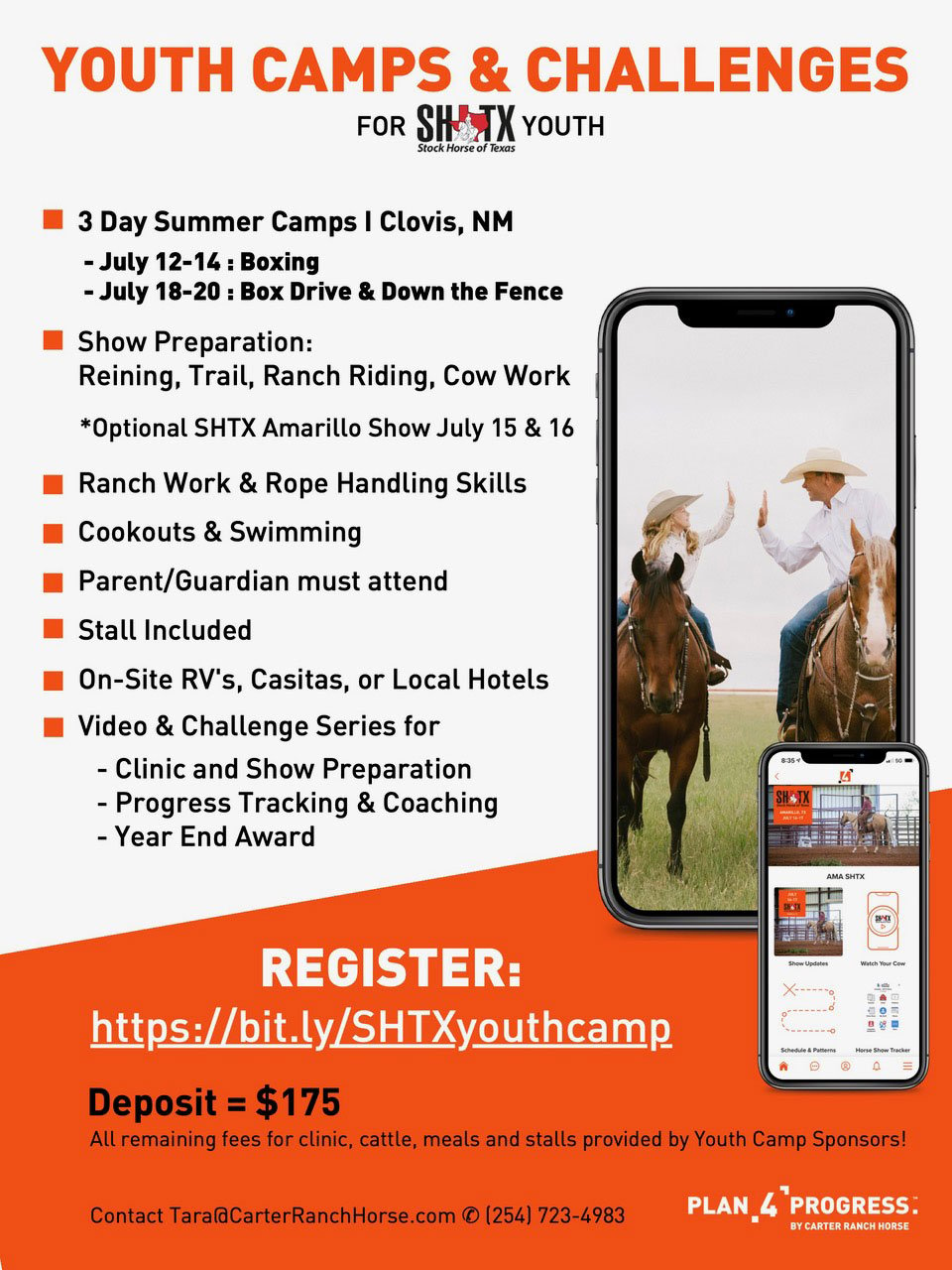 Ride with SHTX in 2022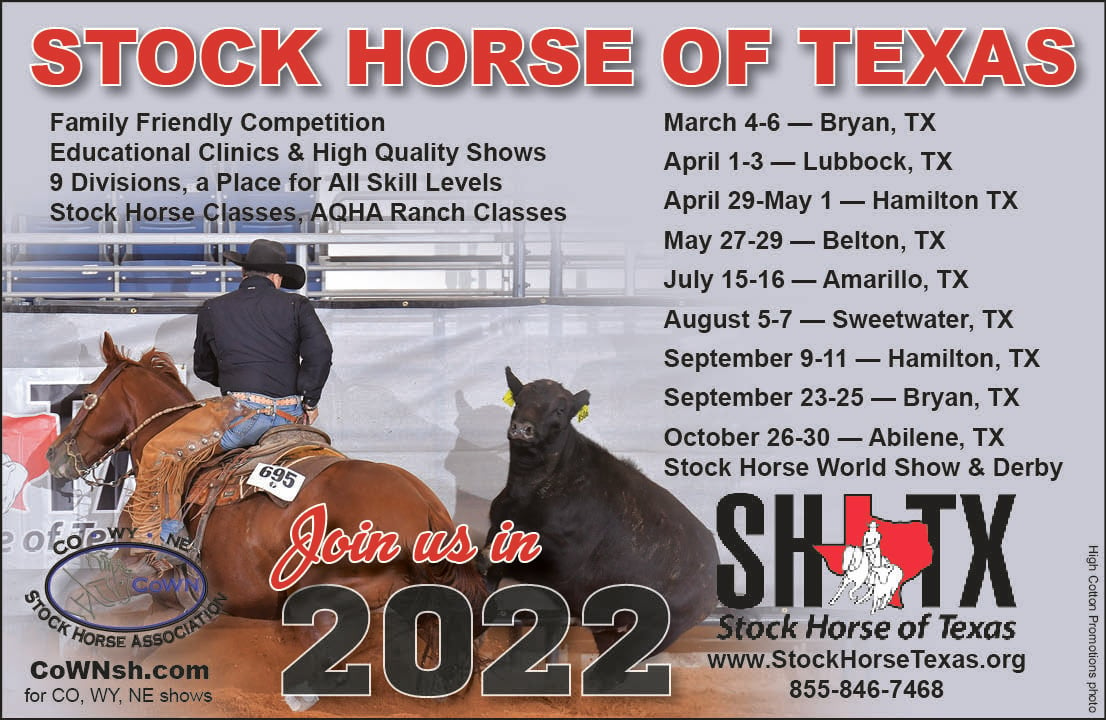 NRSHA
Stock Horse of Texas is proud to be a founding member of the National Ranch and Stock Horse Alliance. Learn what opportunities are available to SHTX members by visiting www.ranchhorse.net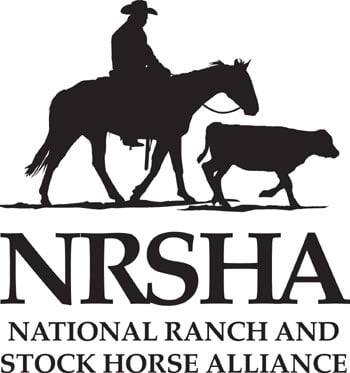 ---
THANK YOU!
Photos used throughout our site are courtesy of High Cotton Promotions, Willie Gomez Photos and SHTX members