Stock Horse of Texas (SHTX) is the oldest versatile stock horse association in the country, a true original that continues to innovate.
Stock Horse of Texas is designed for riders of all experiences to learn and compete in an environment that is friendly, affordable and designed to fit all levels of riding. Clinics focus on creating a 'broke,' functional stock horse that is a pleasure to ride. Shows offer competitions in the four basic stock horse disciplines: Reining, Working Cow Horse, Stock Horse Pleasure and Stock Horse Trail, with some shows offering Ranch Cutting.
There is a division for every skill level, so riders can show with others of similar ability and experience.
Stock Horse of Texas is proud of alliance partnerships with AQHA, APHA, NRCHA and the National Ranch and Stock Horse Alliance.
Join Stock Horse of Texas today with our online membership form!
To receive information on upcoming clinics and shows, sign up for our newsletter:
Upcoming Events
BREAKING NEWS >> SHTX adding Level 1 Novice sub-division; will debut in Amarillo! Plus Paid Cow Practice with Coaching on Thursdays! Read more here
July 15-17, 2022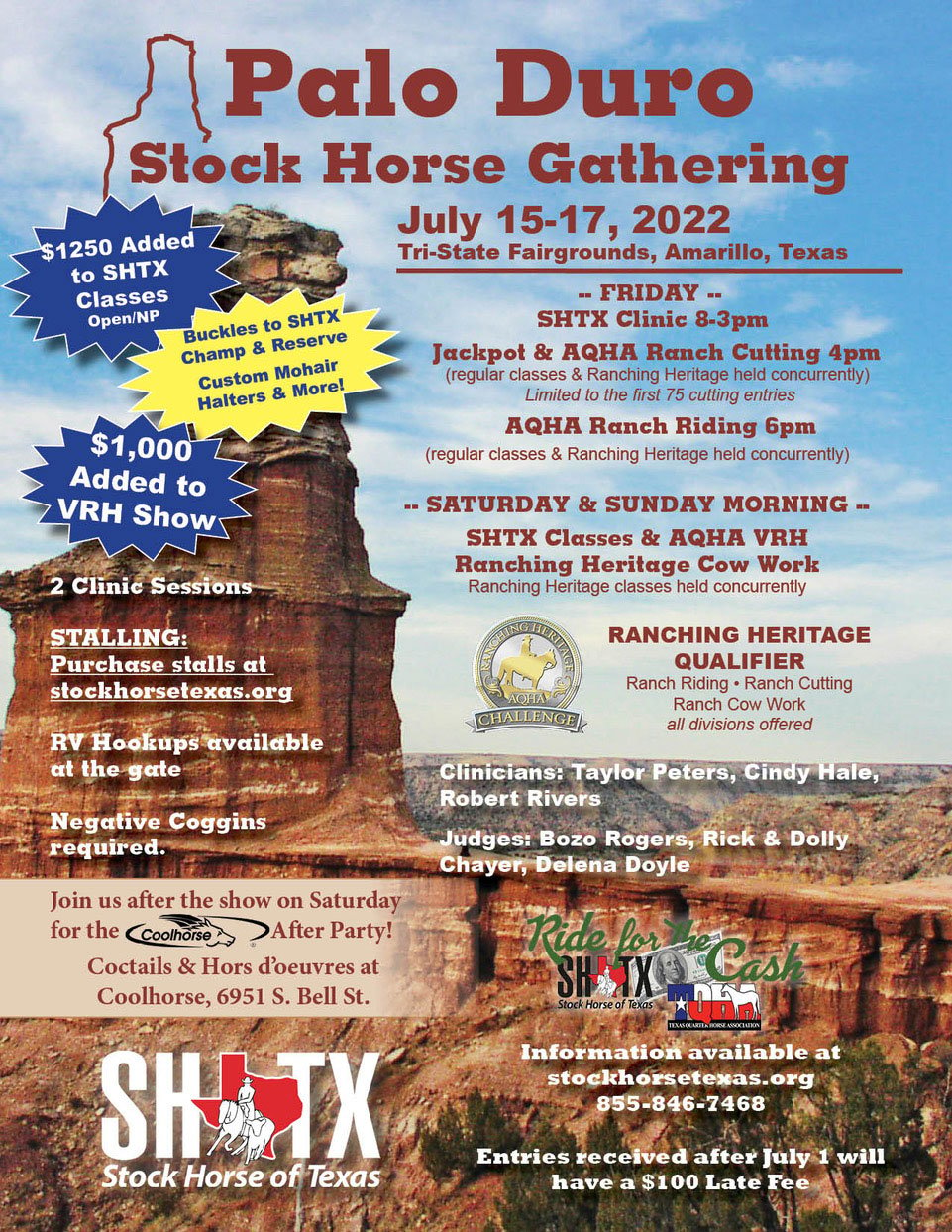 Palo Duro Gathering
Tri-State Fairgrounds, Amarillo, TX
SHTX Classes
9 divisions
$500 Added to Open / Non Pro
AQHA Ranch Riding & Ranch Trail
AQHA VRH Classes
Open, Cowboy, Amateur, Youth, Ltd Amateur & Youth, Rookie Ama & Youth
$250 Added to All Around of Open, Cowboy, Amateur, Ltd Amateur if a minimum of 3 horses in the All Around in that division.
AQHA Ranching Heritage Qualifier
Working Ranch Horse, Ranch Cutting, Ranch Riding. Horse must be eligible/nominated in the AQHA Ranching Heritage program to compete.
See the Schedule section below for a tentative schedule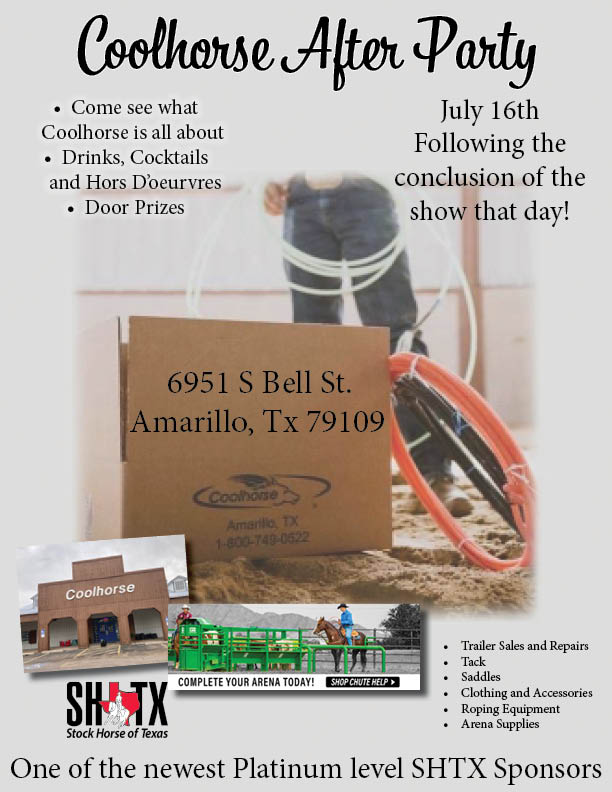 ENTRY FORMS -- Due July 1
Late entries accepted with $100 late fee
Ranch cutting limited to first 75 runs entered across all divisions -- As of 6/23, 47 cutting runs were entered
STALLING
Stalls will go on sale in the SHTX Store on Wednesday, June 15 at 7am.
• All stalls are on asphault/concrete.
• Trailer / RV parking is not very close to the barn. Most exhibitors enjoy having a tack stall at this show.
• Stalls will be pre-bedded with unopened bags on arrival per your order.
• Additional shavings must be purchased on site at the entrance gate (not the show office).
Stall deadline is July 6.
**If you want to be stalled with your friends, PLEASE have one person purchase all the stalls**
RVS
• RVs are first come, first serve.
• The Tri-State Fairgrounds has over 200 hookups so there will be plenty.
• Purchase hookups on arrival at the gate.
**Most hookups are 50amp. Please bring your own adapter if necessary**
CLINIC
"Thursday Paid Cow Practices" with coaching available will go on sale in the SHTX Store on Friday, June 10 at 7am.
Clinic covering all 4 classes will go on sale in the SHTX Store on Wednesday, June 15 at 7am.
Limited to 60 spots
SCHEDULE
Thursday @ 1pm -- stalling opens
Paid Cow Practice slots available 5-7pm

Friday:
Stock Horse Clinic Schedule click here

Friday Ranch Cutting @ 4pm (All Divisions drawn together)
Includes SHTX Jackpot, VRH and Ranching Heritage Cutting
Bill Cody Arena **Limited to first 75 runs entered**
Friday Ranch Riding @ 6pm (Level 1 Amateur, Amateur, Select, Level 1 Youth, Youth, Junior, Senior)
Ranching Heritage Ranch Riding will be concurrent with AQHA Ranch Riding classes
ANC Arena
Saturday & likely Sunday morning (hope to be finished by 10am)
SHTX & VRH Classes
Ranching Heritage Working Ranch Horse classes will be concurrent with the SHTX / VRH Classes
Saturday 5:30-7pm -- Coolhorse After Party
Coctails, drinks and hors 'doeuvers
Coolhorse -- 6951 South Bell St, Amarillo
PATTERNS
TBD
HOTEL INFO
LaQuinta Amarillo Airport
9305 I-40, Amarillo, TX 79118
(806) 335-9572
Social Media
---
SHTX Youth Camps and Clinics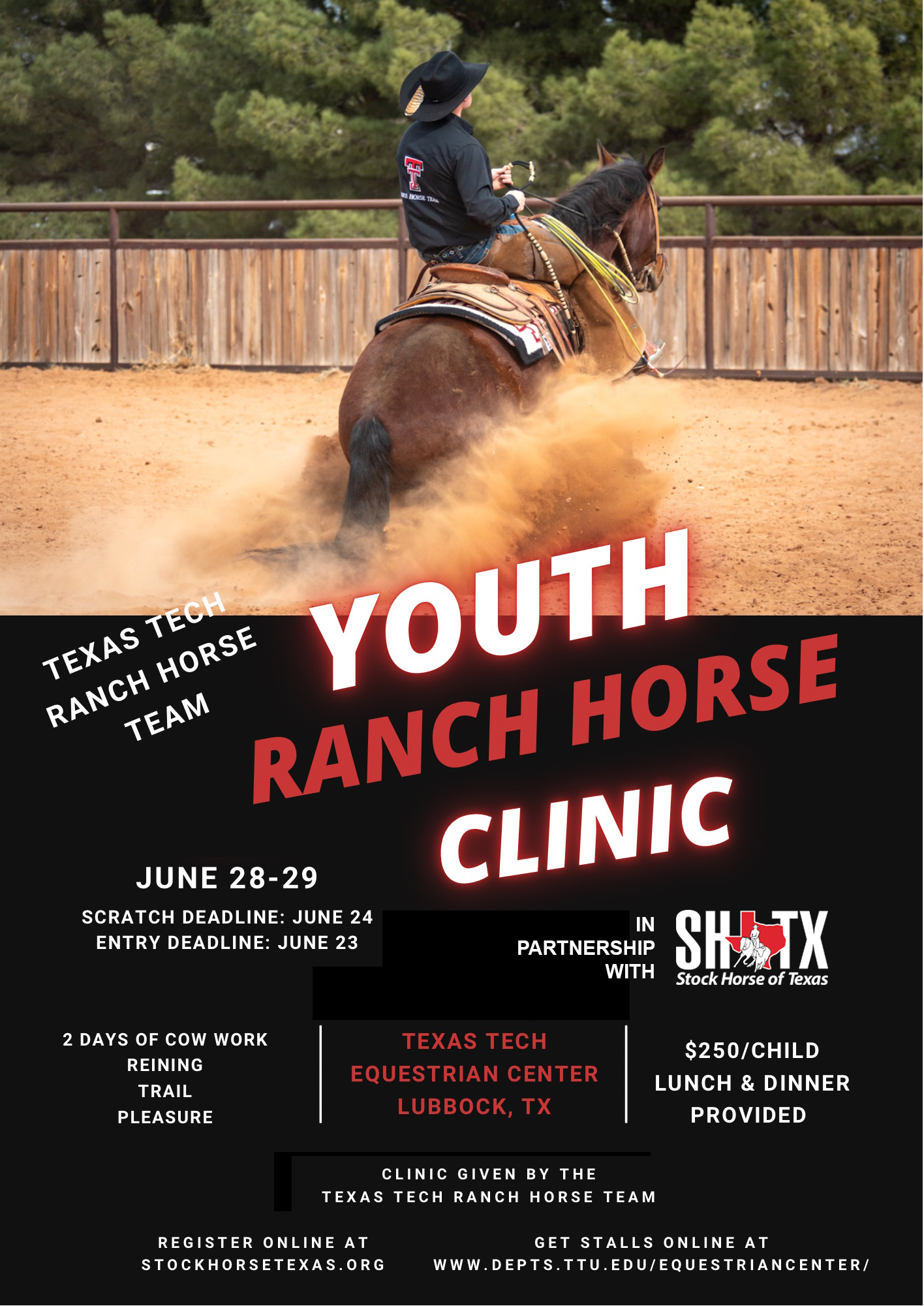 ---
Registration for the SHTX Youth Camps are open...AND we have exciting news!
Thanks to several wonderful sponsors, each rider will have 80% of their clinic spot, meals, and stall covered! All you have to pay is the $175 deposit! The sponsors are paying for the balance in the form of a clinic scholarship.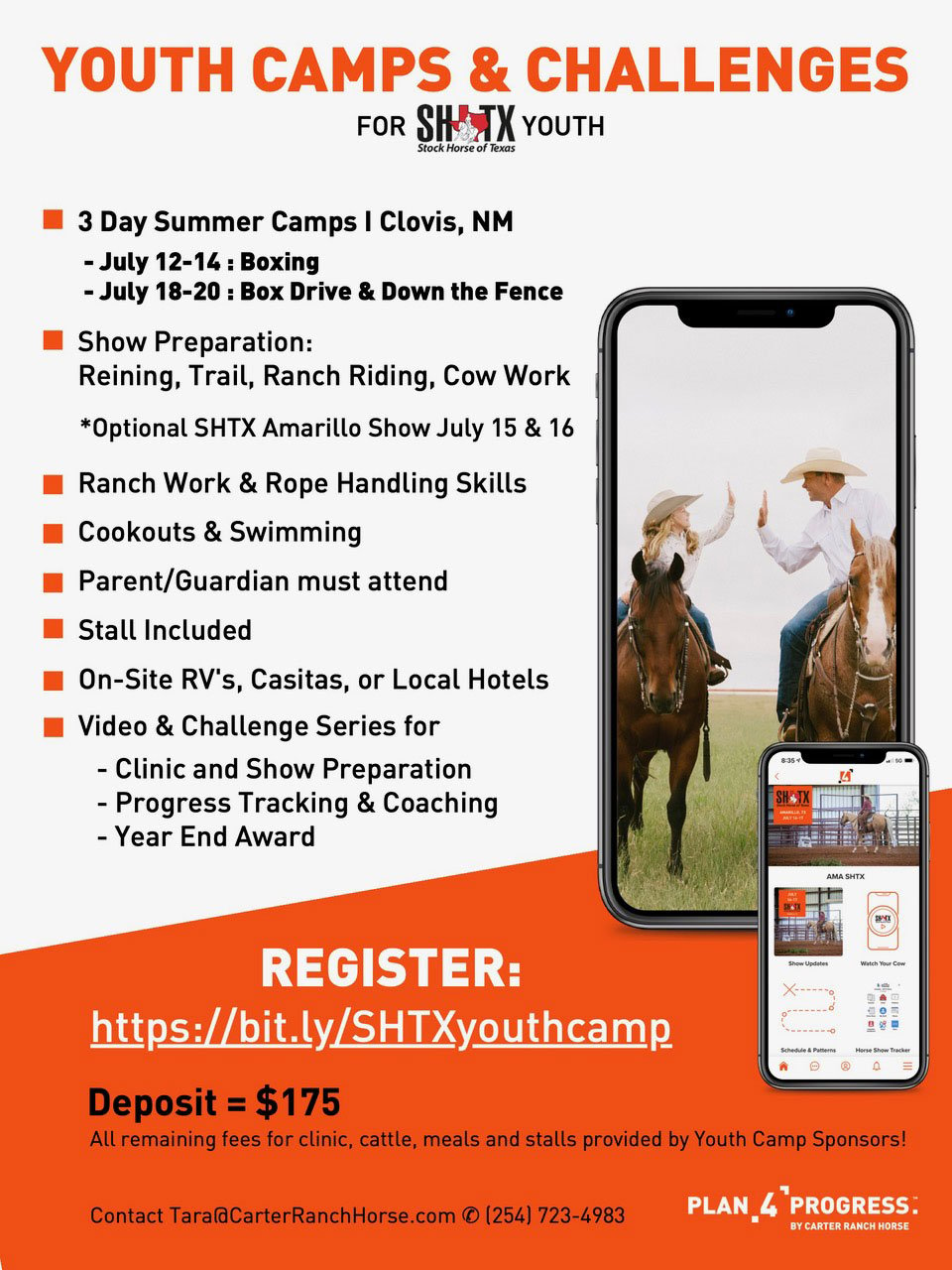 Ride with SHTX in 2022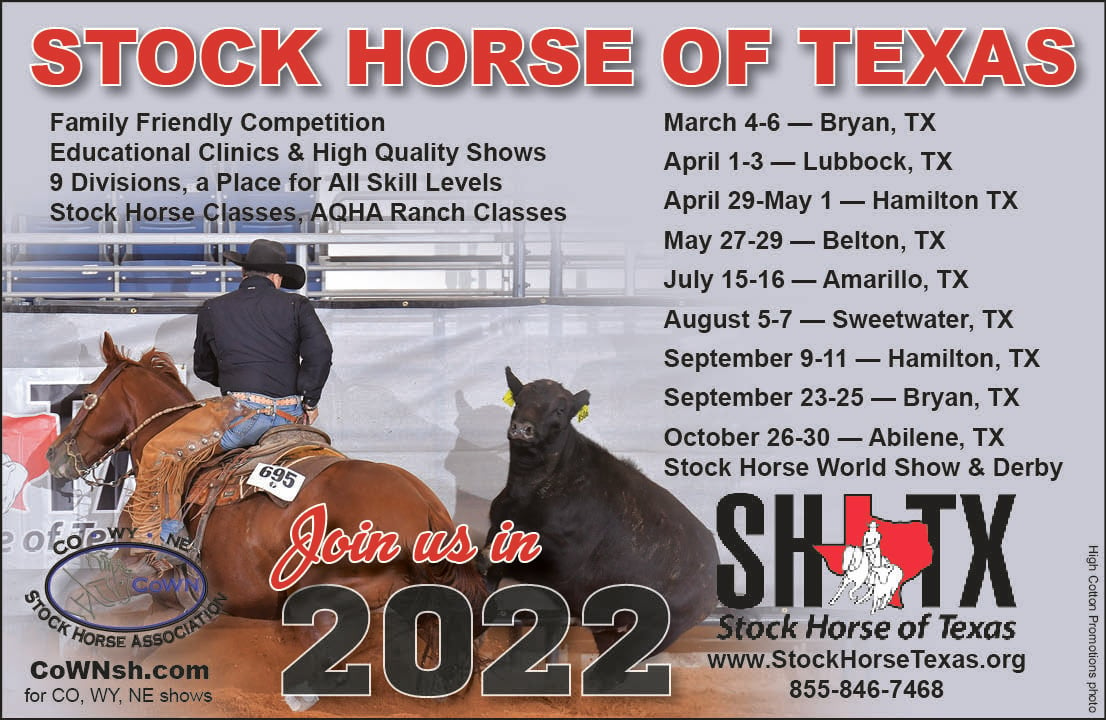 NRSHA
Stock Horse of Texas is proud to be a founding member of the National Ranch and Stock Horse Alliance. Learn what opportunities are available to SHTX members by visiting www.ranchhorse.net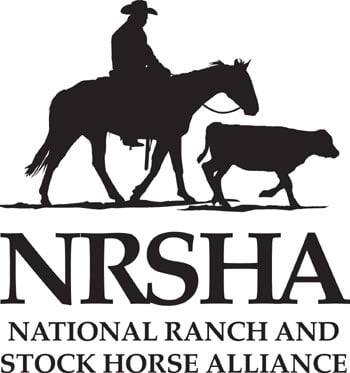 ---
THANK YOU!
Photos used throughout our site are courtesy of High Cotton Promotions, Willie Gomez Photos and SHTX members