Stock Horse of Texas (SHTX) is the oldest versatile stock horse association in the country – a true original that continues to innovate.
Stock Horse of Texas is designed for riders of all experiences to learn and compete in an environment that is friendly, affordable and designed to fit all levels of riding. Clinics focus on creating a 'broke,' functional stock horse that is a pleasure to ride. Our clinics promote learning in a relaxed atmosphere that suits both beginner riders and advanced competitors. Premiere horse industry clinicians, including multiple world champions, are regular teachers at clinics – an unmatched value to members.
Shows offer competitions in the four basic stock horse disciplines: Reining, Working Cow Horse, Stock Horse Pleasure and Stock Horse Trail. There is a division for every skill level, so riders can show with others of similar ability and experience. Divisions include Open, Non Pro, Limited Non Pro, Intermediate Non Pro, Novice, Youth and Junior horse. Stock Horse of Texas also offers incentives for collegiate teams and members.
Many of our shows also offer co-approved AQHA Ranch Riding and AQHA Versatility Ranch Horse classes.
Stock Horse of Texas is a strategic marketing alliance partner with AQHA, recognizing SHTX as the leader in the stock horse industry.
Join Stock Horse of Texas
Today with our online membership form!
To receive information on upcoming clinics and shows, sign up for our newsletter:
Upcoming Events


Get all the info on the Western Horseman Stock Horse World Show and Ordner Insurance/American Reliable Insurance Stock Horse Derby!
---
Head over to the World Show page for Details!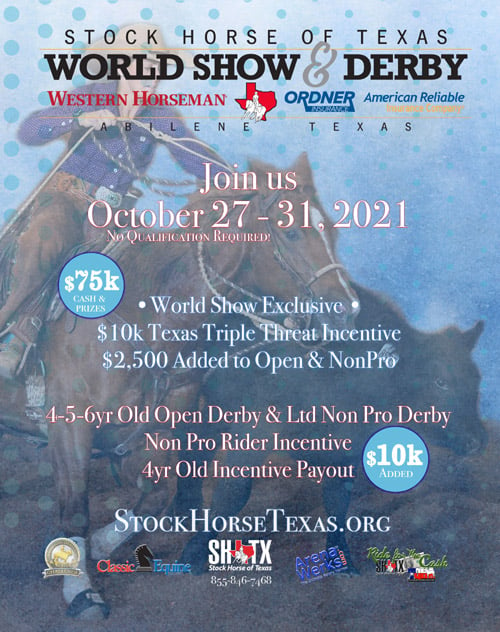 Social Media
---
World Show & Derby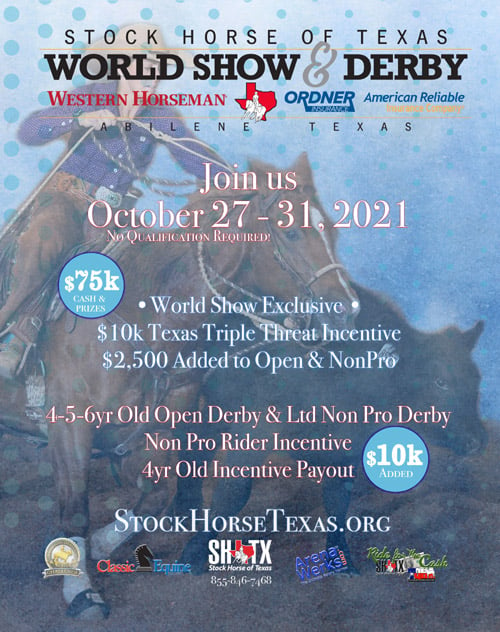 Important Dates for 2021
August 23 - Bryan Clinic Slots on Sale @ 7am
August 23 - Bryan Entries Open
August 30 - Hamilton Entry Deadline
September 1 - Bryan Stalling / RV open @ 7am
September 1 - World Show & Derby Entries Open
September 1 - SHTX Board Nominations due
September 6 - Hamilton Scratch Deadline
September 10 - Bryan Entry Deadline
September 10-12 - Hamilton Clinic & Show
September 14 - FREE Webinar with Shannon Pigott & Barbra Schulte on reading cattle
September 20 - Bryan Scratch Deadline
September 24-26 - Bryan Clinic & Show
September 27 - World Show Stalling / RV open
October 4 - World Show & Derby Entries DUE
October 11 - World Show Cow Paid Practice Sessions on Sale @ 7am
October 18 - World Show & Derby Stall Reservations DUE
October 26 - Last day to enter World Show & Derby with Late Fee
October 27-31 - World Show & Derby

NRSHA
Stock Horse of Texas is proud to be a founding member of the National Ranch and Stock Horse Alliance. Learn what opportunities are available to SHTX members by visiting www.ranchhorse.net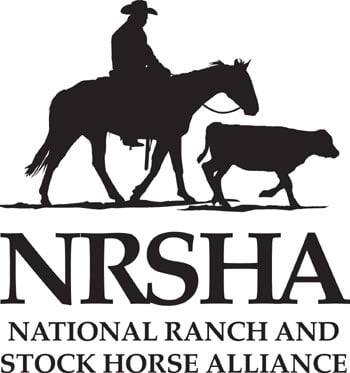 ---