Stock Horse of Texas (SHTX) is the oldest versatile stock horse association in the country – a true original that continues to innovate.
Stock Horse of Texas is designed for riders of all experiences to learn and compete in an environment that is friendly, affordable and designed to fit all levels of riding. Clinics focus on creating a 'broke,' functional stock horse that is a pleasure to ride. Our clinics promote learning in a relaxed atmosphere that suits both beginner riders and advanced competitors. Premiere horse industry clinicians, including multiple world champions, are regular teachers at clinics – an unmatched value to members.
Shows offer competitions in the four basic stock horse disciplines: Reining, Working Cow Horse, Stock Horse Pleasure and Stock Horse Trail. There is a division for every skill level, so riders can show with others of similar ability and experience. Divisions include Open, Non Pro, Limited Non Pro, Intermediate Non Pro, Novice, Youth and Junior horse. Stock Horse of Texas also offers incentives for collegiate teams and members.
Many of our shows also offer co-approved AQHA Ranch Riding and AQHA Versatility Ranch Horse classes.
Stock Horse of Texas is a strategic marketing alliance partner with AQHA, recognizing SHTX as the leader in the stock horse industry.
Join Stock Horse of Texas
Today with our online membership form!
To receive information on upcoming clinics and shows, sign up for our newsletter:
Upcoming Events
June 28-29, 2019
Dripping Springs Ranch Park
Dripping Springs, Texas
** This show does not count toward SHTX Year End Points **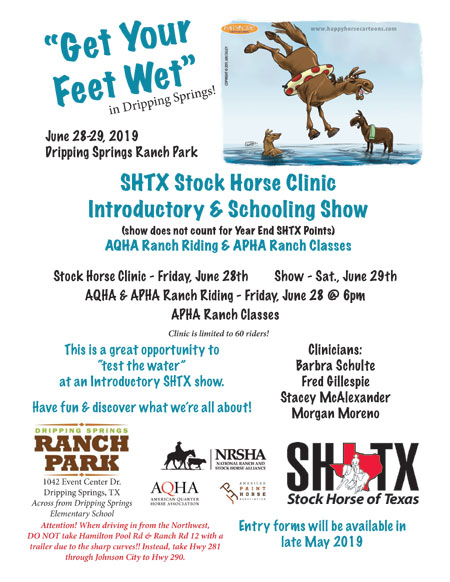 ** This is an Introductory / Schooling SHTX Show. It does not count for SHTX Year End Points. Click on the Q&A for information on how this show counts toward Constant Competitor & NRSHA qualifying, as well as SHTX eligibility **
Q&A for the Dripping Springs Intro / Schooling Show
Entry List as of June 19
(If there is a number in the clinic column, you are in the clinic. )
SHTX - AQHA RR Entry Form -- ONLINE ENTRY
SHTX AQHA RR Entry Form -- PRINT & EMAIL
Paint & SHTX Entry -- ONLINE ENTRY
Paint & SHTX Entry -- PRINT & EMAIL
---
July 19-20, 2019*
Tri-State Fairgrounds
Amarillo, Texas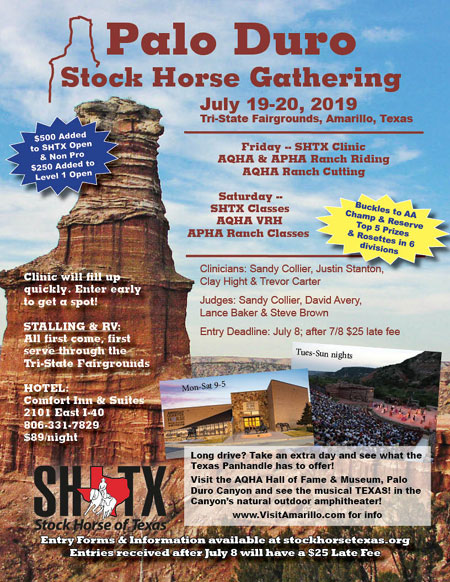 SHTX - AQHA Online Entry
SHTX - AQHA Printable Entry
Paint Horse Online Entry
Paint Horse Printable Entry
Make a mini-vacation of this trip! Trail ride in
Palo Duro Canyon & see the play TEXAS in the
outdoor amphitheater. Visit the
AQHA Heritage Center & Museum!
---
ONLINE ENTRY SYSTEM
Please watch this short tutorial on how to enter online!
Please fill out both pages of the entry form. If you do not sign the form electronically, you can sign it in person when you check in.
When you are finished, Click on the ORANGE button at the top of the page. Next, it will give you the option to Download a copy for yourself, or enter your email address and a copy will be sent to you.
If you are taken to the Confirmation Web Page, we received your entry. **You do NOT need to email us your entry form as long as you reach the Confirmation Web Page.**
If you do not reach the Confirmation Web Page, we DID NOT receive your entry.
If you have not previously submitted horse registration papers or if there has been a change in ownership, please use the UPLOAD feature on the Confirmation Web Page to send in your horse's papers.
If you have already submitted papers at a previous show, there is no need to send the papers again.
A printable entry form is still available if you do not wish to use the online entry system.
Social Media
Future Events
August 2-3, 2019*
Nolan Co. Coliseum
Sweetwater, Texas
---
NRSHA
Stock Horse of Texas is proud to be a founding member of the National Ranch and Stock Horse Alliance. Learn what opportunities are available to SHTX members by visiting www.ranchhorse.net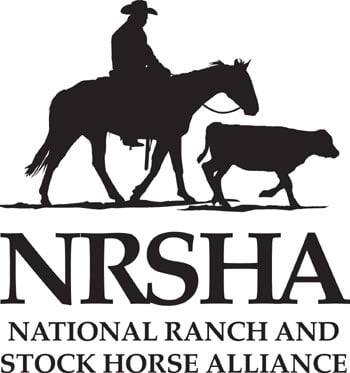 ---